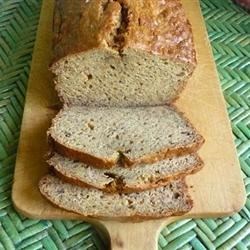 One of the things I frequently bake is banana bread. Not because I like it, but because my family does (same goes for spaghetti) and it uses up any bananas that go past fresh eating stage. I always found banana bread not banana-ie enough and somewhat dry. So when my kind neighbor brought over 20 lbs of fast ripening bananas she got from a church I thought "Great, banana bread forever!"
However a lady I met at a playgroup suggested a new recipe for me to try that uses twice the usual amount of bananas. This makes the most moist, delicious, banana intense bread you can imagine. I am now an official lover of banana bread! I am going to make this for my Christmas gift baskets for our neighbors. Click the link!
Banana Banana Bread
Oh as a side note instead of butter I used cooking oil and it turned out fine
Original recipe makes

1 loaf
2 1/3 cups
mashed overripe bananas
Directions
Preheat oven to 350 degrees F (175 degrees C). Lightly grease a 9x5 inch loaf pan.
In a large bowl, combine flour, baking soda and salt. In a separate bowl, cream together butter and brown sugar. Stir in eggs and mashed bananas until well blended. Stir banana mixture into flour mixture; stir just to moisten. Pour batter into prepared loaf pan.
Bake in preheated oven for 60 to 65 minutes, until a toothpick inserted into center of the loaf comes out clean. Let bread cool in pan for 10 minutes, then turn out onto a wire rack.