I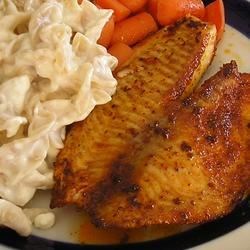 recently discovered tilapia at our local walmart. It comes in a huge bag individually sealed at a great price so I just bought one to try. Little did I know what a hit it would be. My eldest son who is very picky loved this and asked for thirds. My first venture was to make a recipe I got off of the site called
AllRecipes
which I love! The tilapia recipe is easy and really fast and goes great with salad and french bread.
Original recipe makes 4 servings
4 tablespoons reduced salt Old Bay Seasoning or make your own below
3 tablespoons paprika
1 tablespoon onion powder
1 pinch garlic powder
1 teaspoon ground white pepper
1 teaspoon ground black pepper
1 teaspoon cayenne pepper, or to taste
1 teaspoon dried oregano
1 teaspoon dried thyme
1/2 teaspoon celery seed
1/2 tablespoon kosher salt, or to taste
1 pound tilapia fillets
1 lemon, cut into wedges
4 slices white bread
1 tablespoon coconut or olive oil
Directions
In a small bowl or jar with a lid, make the spice blend. Mix together the paprika, onion powder, garlic powder, white pepper, black pepper, cayenne pepper, oregano, thyme, celery seed and kosher salt. Coat the fish fillets with the spice mixture, and allow to sit at room temperature for no longer than 30 minutes.
Heat a heavy cast iron skillet over high heat. Add oil, and heat until it is almost smoking. Place the fillets in the pan, and cook for about 3 minutes per side, or until fish is opaque and can be flaked with a fork. Remove from the pan, and place onto slices of white bread. Pour pan juices over them and squeeze lemon juice all over. Do not underestimate the white bread. It gets quite tasty soaking up all the juices.