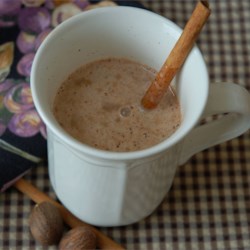 Now I'm not a fan or rum or any hard liquor really, first off even the good stuff tastes like the base for cold syrup to me and second I have an inability to metabolize alcohol so a little bit effects me. But this recipe is something from my childhood. Every year my mom, sister, and I would mix this up when really cold weather hit. I have memories of having it all the time after playing outside for hours in the winter. Actually my parents rarely used it, it was us kids that made it all the time (without alcohol). And in fact my kids love it after playing out in the snow (without alcohol! ). It really is so good mixed with just water, or as I like it milk.
The flavor reminds me of chia tea without the tea added. Every time I make it for someone outside the family they rave and ask for the recipe so it must be good compared to the store bought stuff which I have never tried. If you are going to add rum I would say don't go cheap, get the more expensive stuff, the flavor is better. And I would encourage you to use whole spices and grind them in a coffee grinder nice and fine. It really does make an amazing difference in the flavor.
This makes a lovely and unusual gift for someone like a neighbor this holiday season!
Hot Buttered Rum Mix
1 lb softened real butter - do not use fake butter
1 pt. vanilla ice cream softened - the better the brand the better the flavor
1 lb brown sugar
1 lb powdered sugar
1 tablespoon vanilla
1 teaspoon nutmeg ground
1 tablespoon cinnamon ground
1 teaspoon allspice ground
Mix the sugars and butter until light, then add the spices and vanilla until combined well, then add the ice cream. Keep in an airtight container in the freezer.
To use add desired amount (start with a tablespoon and add more if needed) to a cup of boiling water or milk. Add rum, brandy, or whiskey if desired.