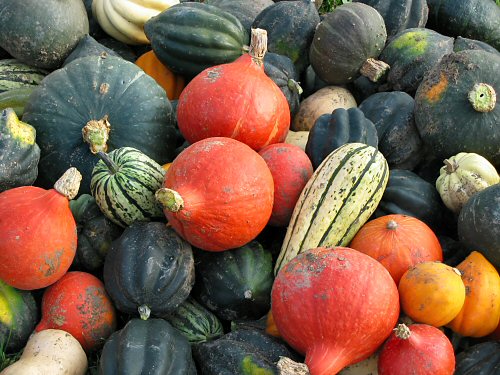 Pumpkin for breakfast
Pumpkin at noon
Without Pumpkin
We'd be undoon
Rhyme from the colonies
Winter squash was first discovered in America and was already a staple of the native American diet when the first colonists arrived. What a boon to the inexperienced colonists. It is easy to grow, harvest, and store for the winter. There are now hundreds of varieties with every possible size, favor, and color. There are blue Hubbard's that get over 60 lbs and tiny sweet dumplings that are the perfect serving size.
The above poem shows how dependant the colonists were on pumpkin. In one journal a visitor noted that the people ate pumpkin at every meal. And really winter squash can be used in so many ways. They can be turned into soups, pies, breads, roasted, dried, pickled, mashed, and even fermented. They are a high quality food with lots of vitamins and nutrition.
They require little effort to preserve for winter as you can store them for up to six months in a moderately warm room. You can also simply slice them and dry them till leathery and add them to soups later.
Add to all its other virtues winter squash makes a good winter animal fodder. Many farmers used pumpkins to feed their cows, goats, sheep, and pigs until spring. 
As America grew up and expanded the settlers brought their favorite pumpkin seeds with them to plant at their new homes. Often it was the best harvest they had that first year on the new broken land since grain crops did poorly on the fresh turned land.
Now winter squash is a traditional part of the American diet. Pumpkin pie is the most common dish at a holiday table, but roasted squash and squash soup are often served on the fall table.
Our family loves roasted butternut, buttercup, and sweet dumpling squash with dinner. I often make pumpkin bread, muffins, and cake. This year for us was somewhat like it must have been for the settlers of early America. Our garden was new in many areas of our land and the pumpkins, winter squash, and summer squash did the best out of all our endeavors.
Amish Sugar Pie Pumpkins from our garden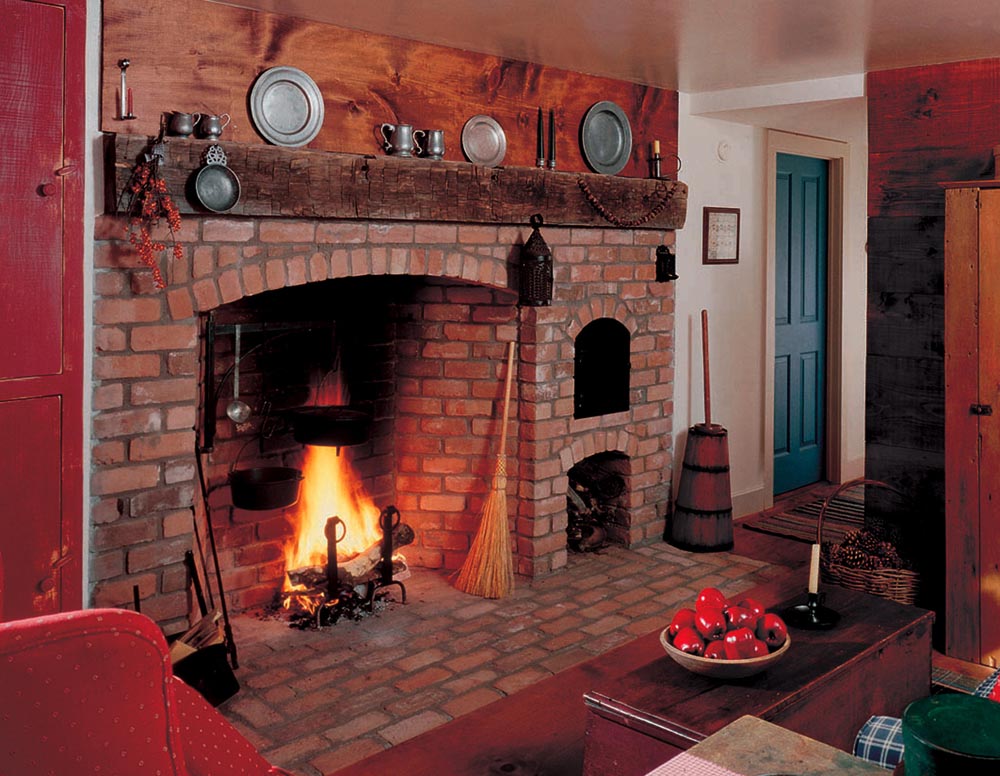 What a Colonial Kitchen Looked Like
Colonial Pumpkin Pie
2 cups mashed cooked pumpkin or (16 oz. can of pumpkin)
3/4 cup sugar
2 teaspoons ground cinnamon
3/4 teaspoon ground nutmeg
1/4 teaspoon ground cloves
1/2 teaspoon salt
3 slightly beaten eggs
1 cup light cream
1 unbaked 9 inch pie shell
Combine pumpkin, sugar, spices and salt. Blend in eggs and cream. Pour into pastry shell. Bake at 400 until knife inserted off center comes out clean. 40 to 50 minutes. Cool (filling may crack)
Pumpkin Gingerbread Cake
My family loves this cake turned into cupcakes. It makes a huge sheet cake so be prepared! Also try grinding your own spices, they are much more fragrant and flavorful fresh ground. I use an electric coffee grinder.
3 c. sugar
1 c. oil
4 eggs
2/3 c. water
15 oz. canned pumpkin
2 t. ground ginger
1 t. cinnamon
1 t. allspice
1 t. nutmeg
1 t. ground cloves
3-1/2 c. all-purpose flour
2 t. baking powder
2 t. baking soda
1-1/2 t. salt
Garnish with whipped cream
Beat together sugar, oil and eggs. Add water, mix well. Beat in pumpkin and spices, set aside. In a separate bowl, combine flour baking soda, baking powder and salt. Stir into pumpkin mixture just until dry ingredients are moistened. Pour into a greased 13"x9" baking pan; bake at 350 degrees for about 45 minutes, until a toothpick tests clean. Cool slightly. Serve warm or cold, garnish with whipped cream. Serves 12