Growing up my favorite restaurant that my parents would take us to was The Spaghetti Establishment. It was full of antiques and ambiance, served good food, and had trains running along the ceiling (I mean what more could a kid want?). It was always so much fun going there and seeing all the neat stuff and watching the trains go by. In fact many parents went there because even toddlers would behave and be quite.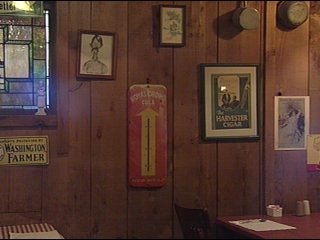 We even lived close by, only a few blocks. And my first job was as a busser working tables there. This gave me a thorough knowledge that I hated working in food. Slobbery spaghetti noodles. GACK! Even after working there, which is the kiss of death for most love affairs, I liked the food.
We have even taken our children there and have had a great time (Although after working there and always being put into the "family" section for bussing I swore I would never take
my
toddlers and torture some poor highschool student). The kids are fascinated and overwhelmed by the trains and antiques and my husband and I get a rare meal of enjoyment. About a year ago the old owners who had been running it for at least 30 years retired and sold it. Apparently the new ownership couldn't keep it going.
But now my beloved Establishment is closing it doors and selling off its decorations. No new owners have stepped in to take over. I'm so sad that I won't be able to take my children or someday grandchildren there ever again.
So here are my favorite and least favorite memories of The Spaghetti Establishment
Favorites:
Going there as a little girl and feeling so grown up sitting in the big wing chairs
The warm loaves of sourdough bread they brought to the table on a wood board with garlic butter to spread
My favorite meal - Spaghetti with shrimp sauce and chicken cordon blue
My favorite soup - They made the best beef vegetable soup (I don't like vegetable soup) homemade every morning
Taking my kids there and watching them fall in love with it as well
My least favorite memories
Picking up half masticated spaghetti noodles off the carpeted floors because the vacuum cleaners couldn't. Ugh!
Don't eat the salad! I won't be specific, lets just say no one who worked there ate the salad!
Good bye good old Spaghetti Establishment. What a sad Day!