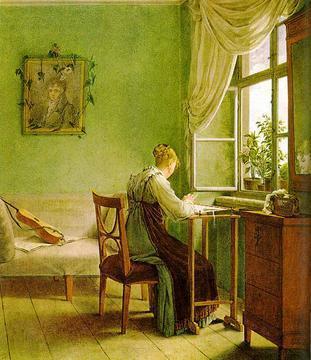 A couple of days before our big once a month shopping trip I take out my handy weekly menus and plan out every dinner plus sides, desserts, and my baking day for the full month. Then after I write down each dinner and side dishes I go through and inventory my cupboards and make a list off all items I will need to make the meals.
Why do I do it? Am I a maven of organization and enlightenment? Ya right! Nope I do this in my never ending quest to make life less complicated and save money at the same time.
Benefits of preplanned meals
1. Every morning I can just look at the menu and know whats for dinner and if I need to take anything out to thaw
2. No running to the store for convenience foods (this is huge because we are an hour from any walmart or other cheap store and our little grocery is about three times more expensive)
3. Makes shopping once a month so saves on gas
4. I can plan for holidays, birthdays, or days that are busy with meals that fit
5. Because we are eating homemade foods and not highly processed "boxed" dinners we are eating healthier
This has made my life so much easier and saved us hundreds of dollars. I try to do one new recipe a week for dinner and try out different baking as well so that we arnt always eating the same menus.
This weeks planned dinners:
Mon- Cream Tuna on Toast, peas, pears
Tues- Herb crusted chicken breasts, rice, zucchini, peaches
Wed- Spaghetti with Italian sausage, french bread, salad, cherries
Thurs- Stuffed Pork chops, green beans, dinner rolls, peaches
Fri- beef barley soup, dinner rolls, cherries, ice cream
Sat- Breakfast for dinner
Sun- Roast chicken, potatoes carrots, pears, gravy, rolls, brownies